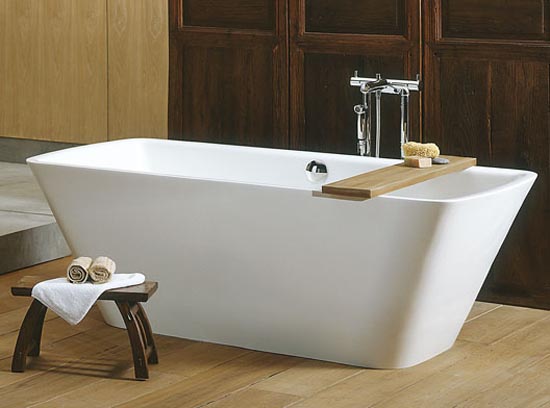 People ask us all types of questions about tubs and we started to think that maybe even more people had some of the same questions. We've compiled some of the ones that we felt were most important.
Questions about Tubs:
Q. How do I select a 2-person bath?
A. Unless the width of the bath selected is at least 48″, the drain location usually determines whether the bath can be used as a one person or 2-person bath. The drain located toward the center of the bath allows seating at opposing ends. A minimum width of 36″ is recommended for a 2-person bath with a center drain.
Q. What's a tile flange and will I need one on my tub?
A. The tile flange goes around the tub deck and sticks up behind the wall tile (or other wall finish). It prevents water from dripping off the deck and onto the floor. Every tub that will be installed against one, two, or three walls should have a tile flange. This is especially critical on tubs that will be used as showers.
Q. How does the optional in-line heater work?
A. The In-Line Heater is totally automatic. When the pump is turned on, water is pumped through the whirlpool system. The water pressure activates a pressure switch inside the heater to turn it on. When the pump is on, the heater is on. When the pump turns off the heater turns off. The heater is designed to maintain the temperature of the water and has a high-limit cutoff set @104*F The heater has an indicator light which will be lit when the heater is on – it is on the heater itself and not visible without opening the tub's access panel.
Q. Who do I contact if I have a problem with my tub?
A. If a problem develops with your tub, call the manufacture and their technicians will help solve the problem. Make sure to have the tub serial number when calling.